Ford Fasteners
Ford Fasteners, Inc. Long Lasting Quality Stainless Screws Engineered and Produced to Any Requirement
For over 55 years Ford has engineered and produced fasteners to any requirement. Our stainless reputation for long lasting quality is built on the strength of versatility in our superior line of Ford 410 stainless steel screws.


~ Global Sourcing

~ Drop Shipping

~ Plating

~ Sealing Washer Assembly

~ Custom Packaging and Labeling

Ford Fasteners is a leading distributor of industrial, self drilling, self tapping, self cutting, self sealing and sheet metal fastener screws. Whatever fastening products you need, you can count on us to be your trusted fastener manufacturer. We offer same day shipping at competitive prices, and we have a large inventory of quality parts so you can get the screws and other fastening products that you need without delay.
Stainless steel is strong, durable and resistant to corrosion, which is why our stainless fasteners are among our most popular products. Our stainless fasteners include: stainless self drillers, stainless self piercing screws and stainless thread cutting screws. With a quality stainless fastener from Ford Fasteners, you can be confident that your fasteners will stand the test of time.
Quality fasteners are a must have item in many different industries, from construction to manufacturing and beyond. Ford Fasteners Inc. has everything that you might need for your application, and we even have the ability to create custom fasteners for unique applications where stock parts won't fit. We stock a variety of stainless steel fasteners, bonded washers, self tapping screws, and more. Contact one of our experienced customer service representatives and they will answer any questions and help you find the right fastening products for your application.
Ask about our Free Freight Policy
Same Day UPS Shipping on orders received 3PM EST

Advantages:
• Strong pointed heads
• Fast acting
• Creates own hole
• Works with hard or thin materials
• Thread deeper hole
Ford Type 'A' Sheet Metal 410 Bright Hardened Stainless Steel For use in thin sheet metal(-.050 thick).
Ford Type 'B' Sheet Metal 410 Bright Hardened Stainless Steel For use in heavier sheet metal (+.050 thick).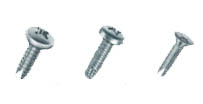 Advantages:
• Less force
• Reduced cutting time
• Better size control
• Improve tool life
Ford Type 'F' 410 Bright Hardened Stainless Steel Multi-cutting edges and chip cavities.
Ford Thread Cutting Type '23' Fine threads offering maximum thread cutting area.
Ford Thread Cutting Type '25'Coarse thread for plastics and other soft materials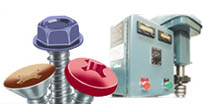 Head Painting All screws can be custom painted to meet your specific requirements.
In-House Inspection Our in-house inspection procedure consists of additional testing for all of our self-drilling screws.
Neoprene or EPDM Bonded Sealing Washer Assembly Ford Fasteners assembly division was established years ago to provide fast deliveries for their customers' urgent needs